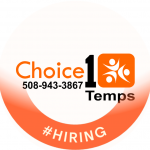 Website choice1temps Choice1Temps
Your #1 Choice for Staffing Solutions in New England
Local manufacturer in Central Mass is looking for help as a machine operator. Some experience is preferred but not required! Great chance to get your foot in the door with a long standing company that has been a part of the community for Many Years. Once hired on, you would be eligible for a raise and Benefits after.
Choice1Temps Offers
Medical Insurance
Dental Insurance
Vision Insurance
Short Term Disability
Term Life Insurance
Choice1Temps is an equal opportunity employer. All applicants will be considered for employment without attention to race, color, religion, sex, sexual orientation, gender identity, national origin, veteran, or disability status.
To find more available jobs, please click here. For health related opportunities, please visit Choice1Health.