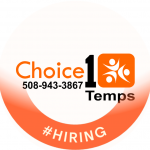 Website choice1temps Choice1Temps
Your #1 Choice for Staffing Solutions in New England
Looking for all 3 shifts (1st 6-3:30 2nd 3-12:30 3rd 11Pm-7:30) Requires Resume and Interview, Pay rate to be determined by experience. Full Job description see Lee Summary: Responsible for the maintenance of machines and building equipment for productivity and safety by performing the following duties. Duties and Responsibilities include the following. Other duties may be assigned.
Performs a variety of electrical trade functions to include installation, maintenance and repair of equipment.
Hooks up electrical wire to machines and rewires machines according to specifications.
Performs checks and balances on machines to assure the proper functioning of wiring system.
Replaces, repairs and calibrates various machine components on a routine basis.
Inspects, tests and adjusts all systems, machinery and equipment on a regular basis.
Records inspections, tests and repairs on preventive maintenance stickers.
Responds to verbal or written instructions for safety and security calls regarding machinery.
Plans and layouts work from blueprints, diagrams, operation manuals, manufacturers' specifications and other specifications.
Disassembles equipment using hand tools and power tools as required.
Inspects damaged parts, determines nature of repair and uses repair tools to rework or refinish worn or damaged parts.
Installs special functional and structural parts and equipment.
Reassembles equipment and tests performance as needed.
Sets up new machines to wiring system as needed.
Records written recommendations on repair work needed.
Performs other related duties as assigned.
Choice1Temps Offers
* Medical Insurance
* Dental Insurance
* Vision Insurance
* Short Term Disability
* Term Life Insurance
Choice1Temps is an equal opportunity employer. All applicants will be considered for employment without attention to race, color, religion, sex, sexual orientation, gender identity, national origin, veteran, or disability status.
To find more available jobs, please click here. For health related opportunities, please visit Choice1Health.