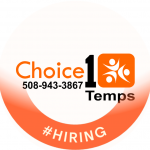 Website Choice1Temps
Our customer produces a well-known product found in grocery stores. They are looking to hire 1st shift maintenance staff as their business just keeps growing. Candidates will be responsible for keeping the manufacturing floor, and other common areas clean. These positions are temp to hire, and offers a wage increase upon conversion.
Choice1Temps Offers
* Medical Insurance
* Dental Insurance
* Vision Insurance
* Short Term Disability
* Term Life Insurance
Choice1Temps is an equal opportunity employer. All applicants will be considered for employment without attention to race, color, religion, sex, sexual orientation, gender identity, national origin, veteran, or disability status.
For other opportunities please visit https://choice1temps.com/available-jobs/