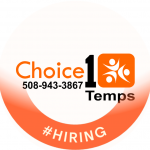 Website choice1temps Choice1Temps
Your #1 Choice for Staffing Solutions in New England
A leading manufacturer in the area is looking to add staff to the position of Packer/Inspector, due to an increase in their business. These Packer/Inspector Positions are temp to hire positions that offer a good starting rate, and three to four days off a week. These Packer/Inspector positions that will require employees to inspect product after it comes off of the production line, and pack it into boxes to be shipped. Please contact us to learn more about this opportunity.
Choice1Temps Offers
* Medical Insurance
* Dental Insurance
* Vision Insurance
* Short Term Disability
* Term Life Insurance
Choice1Temps is an equal opportunity employer. All applicants will be considered for employment without attention to race, color, religion, sex, sexual orientation, gender identity, national origin, veteran, or disability status.
To find more available jobs, please click here. For health related opportunities, please visit Choice1Health.