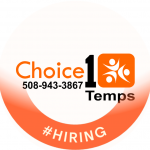 Website choice1temps Choice1Temps
The #1 Choice for Staffing Solutions in New England
A local manufacturer in Sutton, MA is in need of a material handler to pull materials for batches and bring them over to be combined in their mixers. This position will require heavy lifting, as the bags are potentially 50lbs each, and will need to be stacked on a pallet with other materials. Employees will be supplied with a work uniform after about a week of work. As a material handler, you must also be able to use a respirator. Steel or composite-toed boots are a must for this position!
Choice1Temps Offers:
Medical Insurance
Dental Insurance
Vision
Short Term Disability
Term Life Insurance
Choice1Temps is an equal opportunity employer. All applicants will be considered for employment without attention to race, color, religion, sex, sexual orientation, gender identity, national origin, veteran, or disability status.
To find more available jobs, please click here. For health related opportunities, please visit Choice1Health.