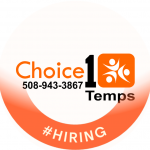 Website choice1temps Choice1Temps
Your #1 Choice for Staffing Solutions in New England
Our well established company is looking to hire a trailer cleaner. The trailer cleaner is responsible to cleaning our trailers at the end of the day. Removing cases of product that was returned from stores and needs to be put back into inventory. As well as sweeping and taking out any trash and pallets from the trailers. Leaving them clean for the next shift to load. The shift is 1PM-9PM. This is a Temp-Perm position.
Choice1Temps Offers
Medical Insurance
Dental Insurance
Vision Insurance
Short Term Disability
Term Life Insurance
Choice1Temps is an equal opportunity employer. All applicants will be considered for employment without attention to race, color, religion, sex, sexual orientation, gender identity, national origin, veteran, or disability status.
To find more available jobs, please click here. For health related opportunities, please visit Choice1Health.