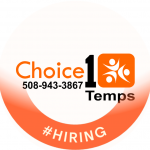 Website choice1temps choice1temps.com
Your #1 Choice for Staffing Solutions in New England
Our customer is an established home remodeler that is looking to add motivated salespeople to help them grow their business. This person should have prior experience working in the home remodeling industry. This position is a mixture of sales and commission, so if you are looking to work for a growing company that provides a good compensation package then this opportunity may be for you. Please contact us for additional information.
Choice1Temps Offers
* Medical Insurance
* Dental Insurance
* Vision Insurance
* Short Term Disability
* Term Life Insurance
Choice1Temps is an equal opportunity employer. All applicants will be considered for employment without attention to race, color, religion, sex, sexual orientation, gender identity, national origin, veteran, or disability status.
To find more available jobs, please click here. For health related opportunities, please visit Choice1Health.