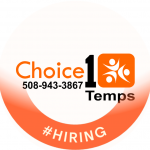 Website choice1temps Choice1Temps
Your #1 Choice for Staffing Solutions in New England
A small storage warehouse in Leominster, MA is looking for extra help order picking. No background or drug test required. Hours are 8:30AM-5PM Mon-Fri. This order picker position is for a person that likes doing work independently. For example, the order picker will be given an order and will be expected to go order pick it out using a hand held electronic device in the warehouse.
Choice1Health Offers
* Medical Insurance
* Dental Insurance
* Vision Insurance
* Short Term Disability
* Term Life Insurance
Choice1Temps is an equal opportunity employer. All applicants will be considered for employment without attention to race, color, religion, sex, sexual orientation, gender identity, national origin, veteran, or disability status.
To find more available jobs, please click here. For health related opportunities, please visit Choice1Health.