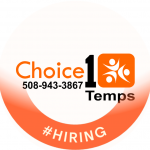 Website choice1temps Choice1Temps
Your #1 Choice for Staffing Solutions in New England
A busy manufacturer in southern Maine is looking for people to be machine operators that produces products for various industries. The machine operator position will be responsible for operating machinery and performing visual inspection. The machine operator position is for the 1st shift and the work schedule is a fantastic four day work week. They offer a good starting rate as a result, great work week, great pay, great work and life balance!!
Choice1Temps Offers:
Medical Insurance
Dental Insurance
Vision
Short Term Disability
Term Life Insurance
Choice1Temps is an equal opportunity employer. All applicants will be considered for employment without attention to race, color, religion, sex, sexual orientation, gender identity, national origin, veteran, or disability status.
To find more available jobs, please click here. For health related opportunities, please visit Choice1Health.