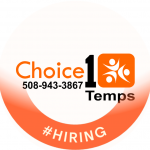 Website choice1teams Choice1Temps
Your #1 Choice for Staffing Solutions in New England
Our customer is looking for candidates to perform general labor duties in a fast paced production facility. These general laborers will be responsible for moving our customer's product around the facility, and to maintain cleanliness in the manufacturing area. Overtime is available on a weekly basis. Our customer offers a competitive starting wage, competitive benefits upon conversion, and the opportunity for advancement. Please give us a call if you'd like to learn more about this promising opportunity.
Choice1Temps Offers
* Medical Insurance
* Dental Insurance
* Vision Insurance
* Short Term Disability
* Term Life Insurance
Choice1Temps is an equal opportunity employer. All applicants will be considered for employment without attention to race, color, religion, sex, sexual orientation, gender identity, national origin, veteran, or disability status.
To find more available jobs, please click here. For health related opportunities, please visit Choice1Health.