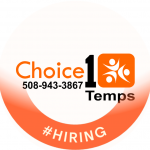 Website choice1temps Choice1Temps
The #1 Choice for staffing Solutions in New England
We are looking for new foam cut employees to work with us and a client company of ours in a packaging facility.  Those hired will be performing tasks in both Manufacturing and Assembly. The positions will be full time and are tasked with handling packaging material varying from foam to wood crates. Candidates should have some familiarity with tools and saws, but is not necessary for all departments! 2nd and 3rd shifts are available but going fast! Some positions are considered entry level, but some others are specialized.
Requirements for Foam Cut: Candidates must be able to stand for long periods of time, pass a pre-employment math test, as well as a drug screen and background checks. Foam cutters must also have steel toe shoes and a steel tape measure of at least 20′.
Choice1Temps Offers:
Medical Insurance
Dental Insurance
Vision
Short Term Disability
Term Life Insurance
Choice1Temps is an equal opportunity employer. All applicants will be considered for employment without attention to race, color, religion, sex, sexual orientation, gender identity, national origin, veteran, or disability status.
To find more available jobs, please click here. For health related opportunities, please visit Choice1Health.