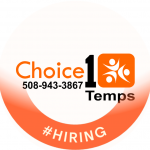 Website Choice1Temps
Local Catering company in South East Connecticut is looking for Banquet Servers for event based work. No experience required but must be able to be presentable and have fine attention to detail. Events located in South Eastern Connecticut, but some travel to off site locations would be required. Great Opportunity to get a foot in the door with a company that has been a staple in the community for many years!
Choice1Temps Offers
* Medical Insurance
* Dental Insurance
* Vision Insurance
* Short Term Disability
* Term Life Insurance
Choice1Temps is an equal opportunity employer. All applicants will be considered for employment without attention to race, color, religion, sex, sexual orientation, gender identity, national origin, veteran, or disability status.
For more job opportunities please visit www.choice1temps./available-jobs/