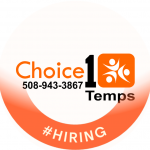 Website choice1temps Choice1Temps
Your #1 Choice for Staffing Solutions in New England
Line workers are responsible for several bakery manufacturing activities. Line workers must be willing and able to work in a fast paced manufacturing environment. Must be able to communicate and work effectively in a team environment and be flexible in assignments. Must be able to follow instructions (written & verbal), safely, accurately complete assigned duties and maintain Company standards. Responsible for product safety, windows, ceilings, restroom, break room, wash racks, cleaning equipment, lights, mixers, ovens, pans, etc., throughout the plant. Also may clean processing and non-processing equipment in grounds
Job Responsibilities:
Packing/filling product on production lines
Setting up production floor area with necessary packing materials
General housekeeping of production/processing areas
Inspect equipment prior to use to ensure it is fully operational Follow all required guidelines
Report any mechanical challenges with the equipment to your supervisor or foreman immediately
Report any change in product consistency to supervisor or foreman
Maintain clean and organized area – be INPECTION READY
Ensure daily paperwork is filled out properly and accurately  Return any and all tools to proper storage area
Bring dirty tools, utensils, etc. to the wash area for cleaning
When and if the line is down, you are required to find busy work including, but not limited to sweeping, cleaning the lines, labeling cases, building merchandisers, etc.
Ability to lift 50 lbs or greater
Other duties as assigned
Choice1Temps Offers
* Medical Insurance
* Dental Insurance
* Vision Insurance
* Short Term Disability
* Term Life Insurance
Choice1Temps is an equal opportunity employer. All applicants will be considered for employment without attention to race, color, religion, sex, sexual orientation, gender identity, national origin, veteran, or disability status.
To find more available jobs, please click here. For health related opportunities, please visit Choice1Health.