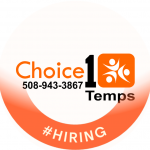 Website choice1temps Choice1Temps
Your #1 Choice for Staffing Solutions in New England
Local Manufacturer is looking for Help operating machines on the 1st shift to assist in the production and manufacturing process. Responsibilities would include, Operating industrial saw to cut material to company specifications that will be used in the manufacturing process, accurately log production data, and full fill the needs of the company. this is a temp to hire position, with competitive pay and benefits after being hired on.
Choice1Temps Offers
* Medical Insurance
* Dental Insurance
* Vision Insurance
* Short Term Disability
* Term Life Insurance
Choice1Temps is an equal opportunity employer. All applicants will be considered for employment without attention to race, color, religion, sex, sexual orientation, gender identity, national origin, veteran, or disability status.
To find more available jobs, please click here. For health related opportunities, please visit Choice1Health.