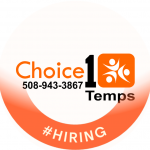 Website choice1temps Choice1Temps
Your #1 Choice for Staffing Solutions in New England
Well known manufacturer is looking to hire fabric cutters to prepare fabric for production. Successful candidates will be cutting fabric to correct length using rulers and measuring tapes. 1st shift positions available. Please call today if you are interested in working for a company that manufactures a unique product, and can provide stable long term employment.
Choice1Temps Offers
* Medical Insurance
* Dental Insurance
* Vision Insurance
* Short Term Disability
* Term Life Insurance
Choice1Temps is an equal opportunity employer. All applicants will be considered for employment without attention to race, color, religion, sex, sexual orientation, gender identity, national origin, veteran, or disability status.
To find more available jobs, please click here. For health related opportunities, please visit Choice1Health.